Automatic invoicing and subscriptions
Invoicing with TimeGuru is very easy and time saving. Especially if you take advantage of the fully automated subscription feature. We want to highlight the following clever functions that will help your company with flexible and correct invoicing:
"Flexible, ongoing invoicing with subscriptions.
Customer-specific invoice setup.
Invoicing by fixed price or consumption based.
Offers and customer management.
Works on mobile, tablet and PC.
Plug and play integration to e-conomic.
The invoicing module is integrated in the solutions' other modules. Including project management and time registration. Below you can read much more about TimeGuru's invoice module. Or you can create a free system right away:
Feel free to call us at +45 71 74 11 15 or email us at kaffe@timeguru.org.
Content
Subscriptions and monthly invoicing
Some companies send out invoices continuously as tasks are being completed. Others do it fixed once a month. If your company sends out invoices at regular intervals, for example once a month, subscriptions in TimeGuru is a big help.
Automatic creation of invoices only requires you to create a subscription on the customer or project. In the subscription you choose how and how often to bill. Afterwards the system automatically creates your invoices, all you have to do is approve them.
General information about subscriptions
You always have to select subscription interval and period. The setup looks like the screenshot below: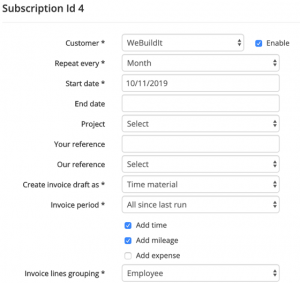 The repetitions can last from 1 month and up to 2 years. Monthly is often used in relation with delivery of ongoing services. Longer periods are often used for service intervals. Please note that the subscription will run endlessly unless an end date is specified. Or if it is no longer active.
The next part of the setup describes how to invoice and if the invoice should be set up with an order-template or consumption-based.
Fixed price invoicing (order-template)
If you choose invoicing by fixed price, the setup will look like this:

Note that it is also possible to pick an "empty" order-template. For example, if you want to make sure that you periodically remember a service agreement.
Consumption-based invoicing
If you choose the consumption-based invoicing instead, the setup looks like this: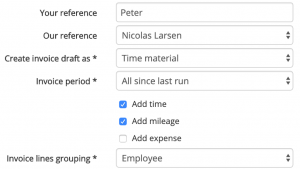 A clever detail is that you can collect all consumption down to latest mileage. But you can also limit to last month or this month. If you want to know more about time registration on customers and projects, check out our guide on time registration.
Invoice description with calculated variables
The last part of the setup is descriptions and terms/conditions. Here it is possible to create standard texts with automatic boxes. For example, year, month or project number:

Congratulations! You have now setup a subscription, that will be implemented at the next invoice run.
Manual invoicing
Sometimes all you need is one invoice without planned repetitions. Therefore, you can manually create invoices in TimeGuru. You can do this in three ways:
Create invoice and invoice lines yourself, possibly from a product catalogue.
Create a customer – or project consumption-based invoice (time, mileage, expenses).
Create a copy of existing offers, orders or invoices.
All invoices created in the subscription module can be corrected manually after creation.
Offers and orders
Put your sales in system with a customer database, customer log and create offers in TimeGuru. We have integrated TimeGuru with Google so that customer information is automatically collected. When your customer is created, you are ready to create offers and log activities. Offers can be made from scratch or copied from existing offers, orders or invoices.
Upon the customers accept of your offer, you move offer -> orders and customer lead -> customer. Easy and simple.
Integrations
TimeGuru can be integrated with virtually any system. We have made multiple standard integrations. But API is also an option if your company want to build an integration for TimeGuru yourself.
e-conomic
we have built a "plug and play" integration to e-conomic. This means that you can setup TimeGuru yourself to exchange data with your e-conomic solution. You find the setup in the menu "settings" -> e-conomic integration. The only thing you have to do is link the systems and select which data to send, retrieve or sync.
when transferring invoices, we make sure that they are booked automatically. And we collect payment information so that it also becomes visible in TimeGuru.
Microsoft Dynamics / Office 365 / Business Central
This integration is a bit more complicated as the data access will have to be created by your company's IT-department. We have built a standard integration for transmission of employees and projects, but it can synchronise all necessary data. Example of TimeGuru standard setup: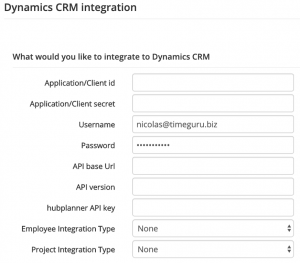 Export/import of files
Most solutions for financial management, new and old, can exchange data via files. This applies to c5, older versions of Navision, Visma and so on. If your company needs an export file instead of a full integration, we are ready to help. Just call or write us, and we will find a solution.