Project management with Gantt Chart, Project economy report and Billing
Even though there is plenty of "schools" teaching the art of project management, there is a broad agreement on the characteristics of a project: "A unique, time limited task, accomplished with limited resources by a temporary composed project organization." Furthermore, projects are considered to be: "the train that takes the company from A to B when changes need to be implemented."
Thus, projects and project management play an important role when changes are implemented in the company or for customers.
Content
The daily project management
In the daily lives we must acknowledge that the term "project" is used more broadly. Projects are not always unique or have their own organization. On the contrary, they are often used with ongoing settlement of services and other collection of consumption.
TimeGuru's project management will give you an easy overview of the company's projects. Whether the projects are big or small, internal or provided for a customer. Even if there is just a need for an extra dimension in the time registration.
You can decide how advanced your project management should be. Try out our simple planning in the Gantt chart or break down sub-projects and gain a full overview of resources, time, progress, risks, project finances and invoices.
Please e-mail us if you have any questions, at kaffe@timeguru.org. 
The project module is fully integrated in TimeGuru's other modules. Read much more about time registration down below.
Project construction in hierarchies and groups
The project module supports project hierarchies with limitless depth. Both in the financial reporting, in time registration and in the Gantt Chart. By building project hierarchies, it is possible to man, price and estimate each project individually. The hierarchies are easily built by attaching projects to each other, either as main – or a subproject.
Furthermore, projects can be divided into project groups if you want a transversal project dimension. The top banner of this page shows parts of TimeGuru's development plans, structured in 3 levels.
Project overview in Gantt chart
Project viewing via. The Gantt chart is an easy and manageable method that provides an overview of the company's projects. The Gantt chart is especially useful to follow projects over a period of time, across project leaders, project groups and hierarchies.
Read more about the use of the Gantt chart here.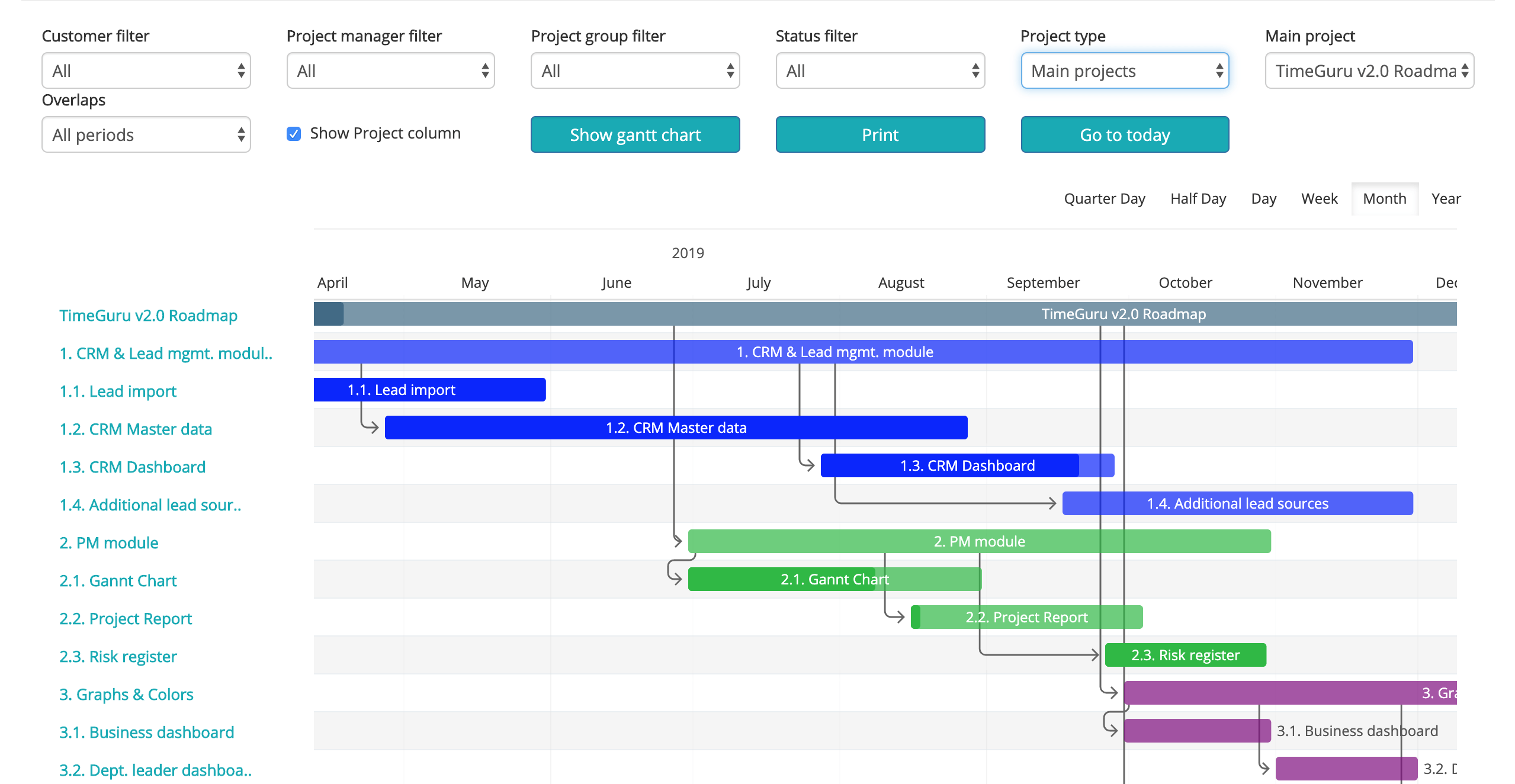 Furthermore, the Gantt chart contains an overview of the following functions, for the project leaders:
View of projects and project hierarchies over time.
View of progress% (budget vs. actual spent time).
Zoom on daily, weekly, monthly or yearly level.
Move projects and sub-projects.
Change start/end date with drag and drop.
Did we mention that TimeGuru's project management module and Gantt chart obviously works on your phone as well as your computer. You can swipe back and forth in the timeline:
Planning of employees
After projects are created, you can book employees on them. This you must do if you want to:
Estimate time and finances on the project.
Exclusively show relevant projects in time registration.
Give employees access to quick-registration on planned projects.
Manage projects with detailed planning.
Planned tasks will now appear in the worksheet, where you simply mark as finished to create a time registration. Below you can see a worksheet with 3 planned tasks on Tuesday.
When marked as done, the system automatically creates a time registration. Additional time is registered by clicking: + time.

Risk management – Be prepared for the project's risks
An important element in project management is to consider/know the project's risks. If you know these, it is easier to predict consequences and consider possible solutions. Risks are typically divided into groups depending on how serious they are for the project's timetable and finances.
With TimeGuru project management you can create a risk register for every project. Or you can gather all the risks in main projects. Regardless of method, it is easy to get a comprehensive overview of projects and portfolios' risks.
When a new risk is created, you fill out consequences and solution and perhaps deadline and responsible.
Time registration on projects
TimeGuru project management is fully integrated in the systems other modules, including time registration. You decide which boxes are shown in the registration, and which are mandatory.
Your company gets many advantages when registering time on projects. For example:
Detailed overview of time across the company's departments, projects, activities and customers.
Opportunity to follow progress on projects and re-estimate budgets.
Evaluate completed projects to better planning skills for the upcoming projects.
Invoice customers or form the basis for internal invoicing between departments.
Detailed documentation for performed work, including attachment of photos on projects.
If you exclusively need project management for internal use in the company, your worksheet can be expanded, add selection of projects. In practical terms, go to the menu -> settings -> system settings, and change point 3 like shown below.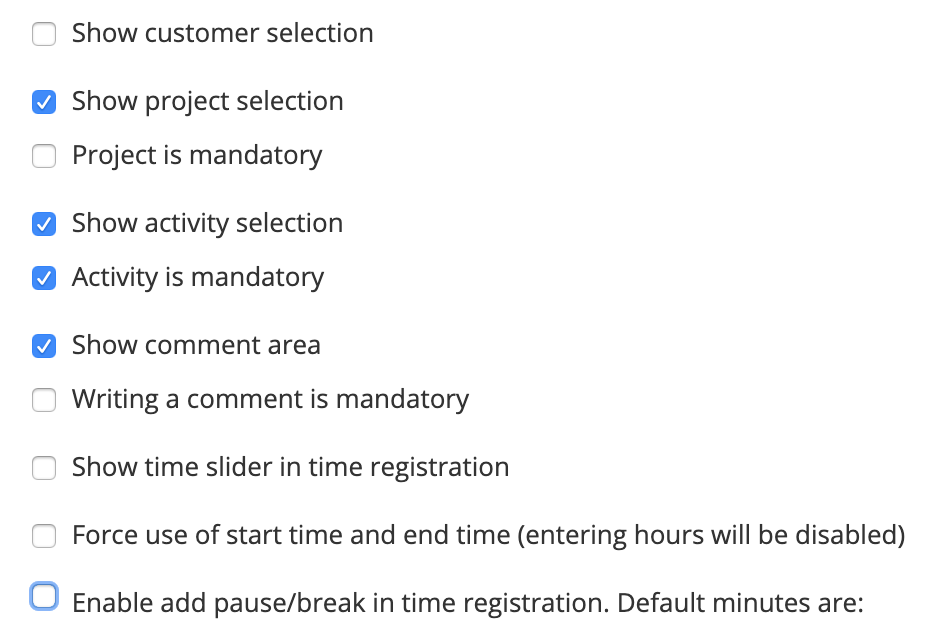 It's a matter of taste if you want selection of project to be mandatory. We suggest to make the setup more restrictive if there's a lot of registration errors. When you save the changes, project management will be activated in the worksheet.
If you need to register on customer projects, you need to activate selection of customers in the setup. Customers will typically be activated if you need to register time, mileage and/or expenses. Or if you work in a bigger company, where lending of employees and project time is valid, you register between departments.
Project registration is fully integrated with vacation and leave registration. That means that the employee only needs to register time at one place. Regardless if its via phone, tablet or pc. Here you can read about how you get TimeGuru as an app icon on IOS or Android.
Project follow-up
When your company complete projects, there is typically great interest in knowing if the project sticks to the schedule and budget. Both from project leader, project renter, head of department, direction, board and company owner.
The need for information varies. Therefore, project reports contains:
Budget and spent time.
Project economy with fixed price or consumption.
Progress and key figures.
Risk assessment.
Much more.
A completely unique detail about TimeGuru project management is that you can pull key figures across units. For example, customers, departments, project groups, hierarchies and project leaders. These key figures give detailed insights in the selected units' effectiveness, compared to the rest of the company.
Invoicing of projects
TimeGuru contains a complete invoicing module. The module can be used for creation of offers, orders and invoices. When creating subscriptions, customer – and project invoicing can happen automatically. With individually adapted invoice setup pr. customer or project. the system supports both invoicing by fixed price and based on consumption. Below is an example on setup of a subscription: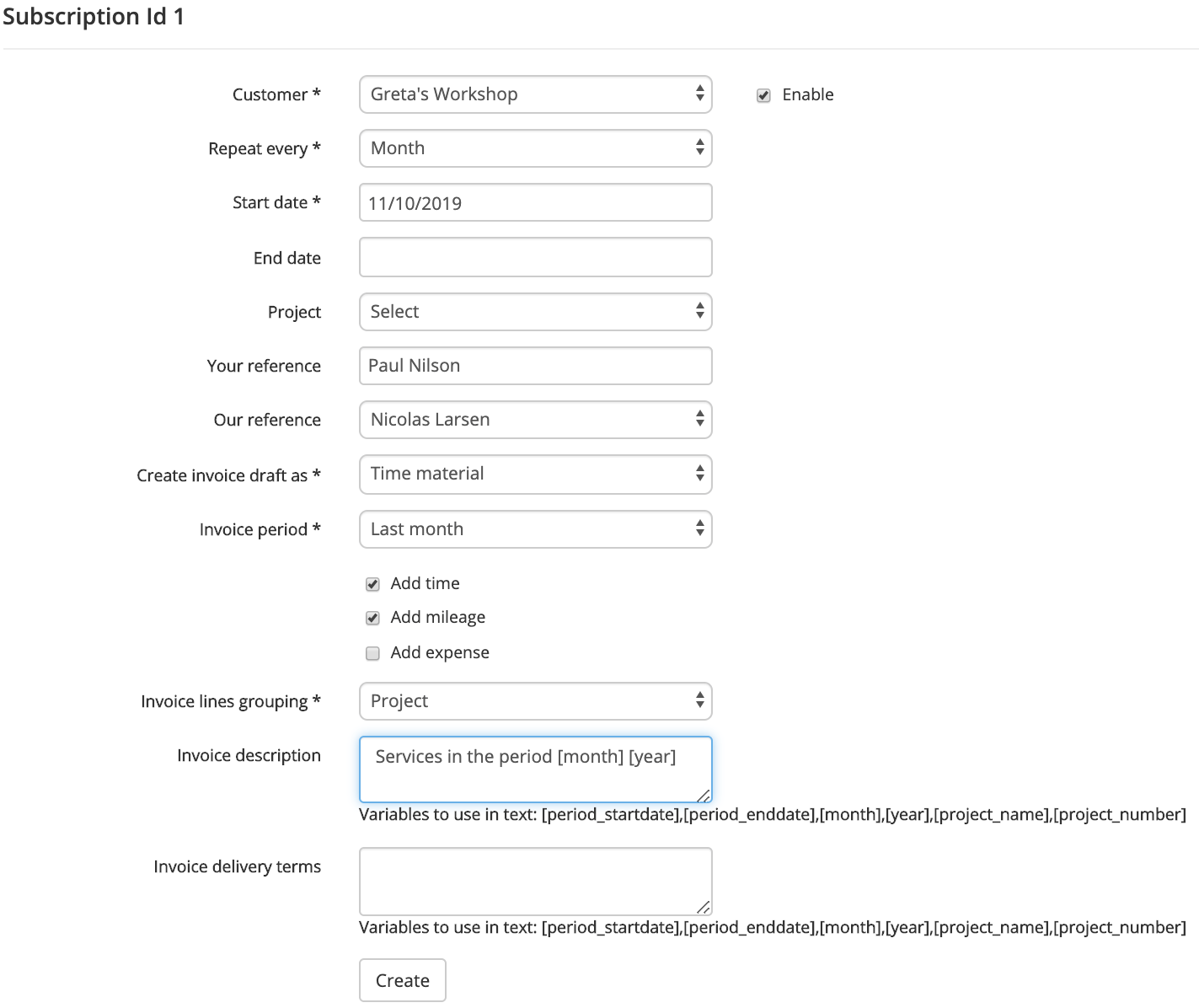 Time/material
Many projects are settled based on consumption. This is often called time tracking, time-material, used time or simply consumption. Regardless of terms, it is about collecting consumption on customers and projects for re-invoicing.
Besides time registration, TimeGuru offers registration of mileage with automatic calculation of distance and expenses with photo annexes.
Sometimes there is a need to adjust billable time. therefore it is possible to adjust time for invoicing, without affecting the employees work hours or flex balance. Both work hours and billable time is visible in administrative reports.
Fixed price
Fixed-price projects has different requirements for project management and invoicing. Here it will typically be about solving the task properly, but with a minimum amount of spent time. the profits of fixed price projects drops when spent time increases, but the opposite applies when projects are calculated with consumption.
Invoicing of fixed price can be setup in the subscription module as single payments or period invoicing.
Integration of projects
The project module in TimeGuru can be integrated with other solutions. Typically the reason will be that:
Projects are created in the financial systems and transferred to TimeGuru.
Invoices and/or consumption must be returned to the financial system.
Manning of projects must be obtained from an advanced planning system.
TimeGuru supports all modern forms of integration. If you, as a customer, want to develop integrations yourself, this is possible via the TimeGuru API.