This Guide for Time Tracking will take you through the steps of corretcly tracking work time, vacation and leave.
Content:
Track Time
Book Vacation
Start-Stop timer
Tips and Tricks
Track Time
Click Menu -> Worksheet. Now click +Time on your day of work, to create a time registration.
Fill in start/end time or simply fill in hours as decimal if this is what you prefer.
Optionally select Customer, Project and Activity depending on system setup.
Add a comment to you booking (typically not mandatory).
Your booking may look like below screenshot: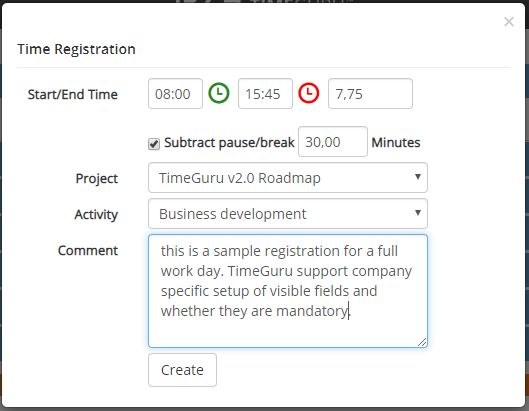 Book Vacation
Click Menu -> Worksheet. Now click +Time on your start day of vacation.
Select the activity "Earned Vacation". (no need to fill in time for vacation days)
Select type of vacation and optionally set the end date to book more than one day.
Write an optional command and click the button "Create".
Live statistics for earned and spend vacation are available in your Personal Dashboard. Open your dashboard by clicking the TimeGuru logo on top or via Menu -> My Dashboard.
Below you see a sample vacation booking: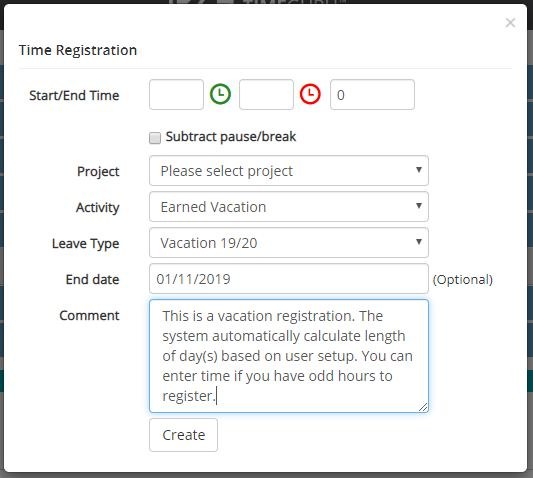 Start-Stop timer
You can also start a timer when you arrive at work. And stop it when you leave. Do this by clicking "+ Time" as before, but without filling in end time (like below screenshot). Now click the button "Create".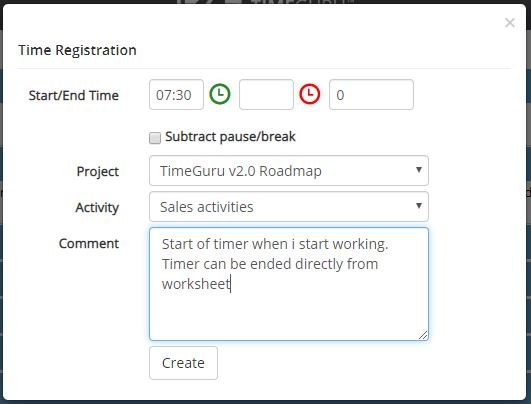 When you leave or want to end the timer, click the "End" link directly in the worksheet (see below screenshot). Now the system saves you day.
After clicking end, the completed registrations with pause subtracted, looks like this:

Tips and Tricks
This is an overview of helpful features in the Worksheet: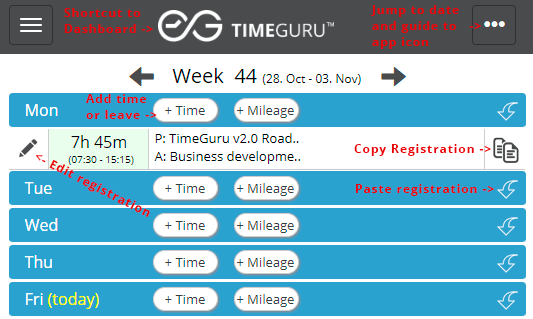 Click the TimeGuru logo to switch to your personal Dashboard with time and vacation statistics.
Click upper right options "…" for more settings. Here you can jump quickly back in time and find guide for app icon on mobile devices.
Register time by clicking +Time. This is the entry to time tracking for work, leave and vacation.
Copy/Paste your registrations to book repeats in seconds. You can paste the same copy multiple times.
Click the "edit pencil" in the left side of registrations, to make corrections.
You can read much more TimeGuru time tracking.