If you have recently been invited to TimeGuru and logged in for the first time, or if you just want to be familiar with all the functions, this is the guide for you.
There are 4 menu items to choose from (click to go to the description of the specific item):
My dashboard
My dashboard is the first item in the menu. Here you can see personal statistics on weekly time, leave, flextime and much more.
Figure 1 – My dashboard
You can also see news that your company posts in the system. You can choose for yourself what you want to see in your dashboard, as you can also see in Figure 2.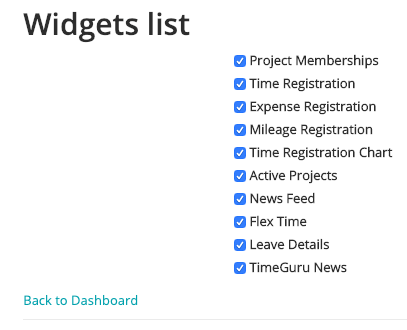 Figure 2 – Widgets in My Dashboard
You can select and deselect depending on your needs. This can depend a lot on the type of the company. For example, if you drive a lot in connection with your job, it might be a good idea to select mileage, and if you know that your company uses the news, select that.
Worksheet
In the worksheet you register your time, mileage and expenses. Depending on your company's setup of the system, there are different boxes you have to fill out when you register time.
Registering your time
First you have to insert the amount of time you want to register. You can do this three ways:
Figure 3 – Register time three ways
Calculate and insert manually in the box
Calculate time, but use the slider to indicate time
Insert start and end time for the work you want to register. You can also choose start time and fill out the mandatory boxes while letting the end time remain empty. Afterwards you can just click end when you are done, and the system will calculate the time for you (as shown in figure 4).

Figure 4 – Ongoing registration
If needed, you can subtract breaktime from your registrations (figure 3). Just type in the time of your break in minutes, and the system will automatically subtract it from your registration.
If this is a part of your system's settings, you can also attach a customer to the registration or choose if the registration is internal.
If you are assigned to any projects, you can attach one of them to your registration as well. You can use this in reports for instance, to see how much time you spend on the different projects.
In activities, you can choose between those that are created in the system. This can be both billable and unbillable, and more specific activities depending on your system.
Lastly, you can add a comment to your registration. You can specify what work you have done in that time, or type in other important information.
In the bottom of the page you can see weekly statistics.

Figure 5 – Weekly statistics in the worksheet
Each customer has their own colour. The statistics show you the number of workhours registered in the current week. This makes it easy for you to make sure that you work the right number of hours and it also gives you an overview of the different customers and how much time you spent on each of them.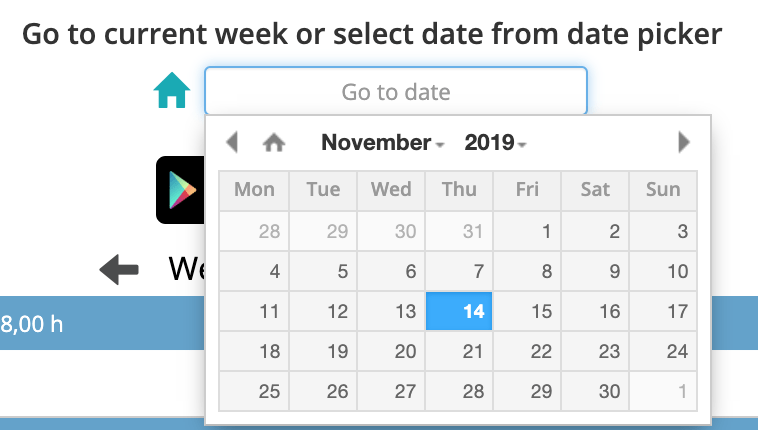 Figure 6 – Shift between the weeks
On figure 6 you see a calendar. You can use this to go back and forth in the worksheet. You can also use the arrows to go back and forth one week at a time. To go back to the current week, simply click the home button.
Reports
In reports in the menu you can choose between 4 different options.
Time
Expenses
Mileage
Storyline
Mutual for all the reports are that they give you a quick overview of your personal statistics. You can download the report as a PDF or an Excel file.
Time report
The time registration report will show you statistics on all the time registrations you have created during a specific period of time. You can choose between many different filters that will indicate what information will be shown in the report.
Project can be used if you want to know how many hours you have spent on different projects.
Project leader will make the report even more specific. Same goes for project groups.
You can also sort between the different activities, to see how your distribution of time is regarding the different activities. This is a big plus if you for example distribute your own workhours.
Groups can provide you a list of customers or projects for example. Every item gets its own column, so that you can see the different information for each in the different categories.
Customer will show you one customer in the report with the different information you have selected.
Period defines the period you want to pull a report from. 1) This week, 2) last week, 3) this month, 4) last month and so on.
When you have chosen the filters you need, just click generate report.
Figure 7 – Time registration report
Now you can see all the different information, here among project, department and comment. It's not necessarily all the information that is relevant for your report.
Example: If you with the filters choose to pull a report on a specific customer, it is not necessary to have the subject "customer" in the report, as you already know the report is only regarding that one customer.
Figure 8 – select and deselect information in the report
Figure 8 shows you a list of all the different information that you freely can select and deselect in the report. The green colour indicates that the box is selected and the grey indicates the opposite. When you have chosen the information you want to see, click generate report again.
The same information and filters go for the expense report and the mileage report. Therefore, these will only be described shortly.
Expense report
The expense registration report can give you an overview of the distribution of your expenses. Expense cover things such as lunch or minor purchases connected to work.
Mileage report
The mileage registration report will, much like the other reports, give you an overview. This specific report will give you a report on your mileage, meaning where and how much you drive in connection with work. You can also use it to see your mileage allowance for a specific period.
Storyline
In the storyline you can see a timeline with all the different registrations you have made in a period you choose. Here you can select all the same filters as we ran through before. Besides, you can choose what registration type(s) you want to see (time registration, expense registration, mileage registration and/or photo registration).
Figure 9 – Storyline
Settings
Personal settings
In the personal settings you can edit your profile, password, external logins and user log.
In edit profile you can change information such as name, e-mail, language and address.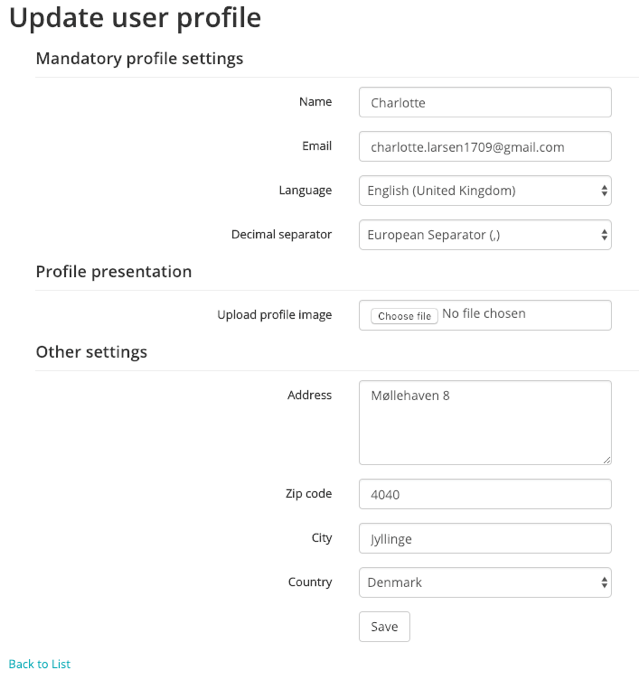 Figure 10 – personal settings
Some mandatory settings you have to fill out, but some are optional as well. For example, you can add a profile picture if you want to.
The external logins, you can add if you wish to login differently from when you first logged in.
In the user log you can see all the actions you have made in the system.
Change organization
You can use change organization if you are invited to multiple systems. Its super easy to do, and you don't even have to log in and out to change organization.
Support
The last item to be reviewed in this guide are TimeGuru's different support options.
On the frontpage you can easily access all the support options.
There are three different types of support:
E-learning videos
User guides (like the one you are reading now)
Frequently Asked Questions
E-learning videos
The e-learning videos thoroughly reviews the different functions step-by-step and they are easy to follow. You can find a video on every function in the system, leaving you no problems finding what you are looking for.
User guides
The user guides are set up like the guide you are reading right now. They will walk you through the different functions and the use of these, without going too much into detail. These guides will give you a good overview of the systems capabilities.
Frequently Asked Questions (FAQ)
The FAQ are different answers to specific questions that other users have asked us. This is an easy way to get the answers to various questions you mught have, or to learn more about TimeGuru in general.
This is all the functions you can use as a user in TimeGuru. Now, you are ready to let the register your time!